We are passionate, relentless employment lawyers who fight for employee rights. When an employer violates your rights, we level the playing field, and help you to take back your power.
You have the right to equal treatment under the law, to be paid properly, to have meal and rest breaks, to take pregnancy or disability leave, to care for your family, and to have the opportunity to return to work. You have the right to have your disability or medical condition accommodated if that means you can then perform the functions of your job. You have the right not to be discriminated against or harassed because of who you are, and you have the right not to be retaliated against for pointing out violations of the law or for asserting your rights under the law.
We are employment lawyers who understand how important your job is to you and to your family's well being, so we do what it takes to help you. First, we work to save your job and resolve the dispute. When that's not possible, we negotiate a severance agreement. When that cannot be accomplished, we file your case, fight for the evidence that proves your case, then we show the jury how the employer broke the rules, betrayed you and how deeply you were harmed.
We truly believe in the words written by this country's founders – "We hold these truths to be self-evident, that all [people] are created equal, that they are endowed [with] certain unalienable rights, that among these are life, liberty and the pursuit of happiness." We represent you – the people – because we know that those who seem least powerful need a warrior and that those who abuse others need to learn the lesson of accountability provided by our justice system.
Ms. Harrison's exceptional reputation means that employers and their attorneys know that she will bring the highest level of legal advocacy, determination, skill and experience to bear – on behalf of you. And they know she gets results. As has been said about Ms. Harrison, "when you see her in a fight with a bear, worry about the bear." (Los Angeles Times, 10/06/07 (CLICK HERE to view article>)
Through single plaintiff, multi-plaintiff and class action cases, we have obtained in excess of $90 million in settlements and verdicts for our clients. We have improved the working conditions for countless employees. We make a difference.
You are not powerless. You just need someone to help you start justice.
Here is why we are the BEST employment lawyers for you:
Our Experience and Reputation
We have developed an outstanding reputation in California for vigorous, committed and effective advocacy on behalf of employees and victims of sexual harassment and sexual assault.
Our law firm has been selected to the Best Law Firms for Labor & Employment Law from 2015-2020, while Genie Harrison has made Best Lawyers in America from 2012-2020.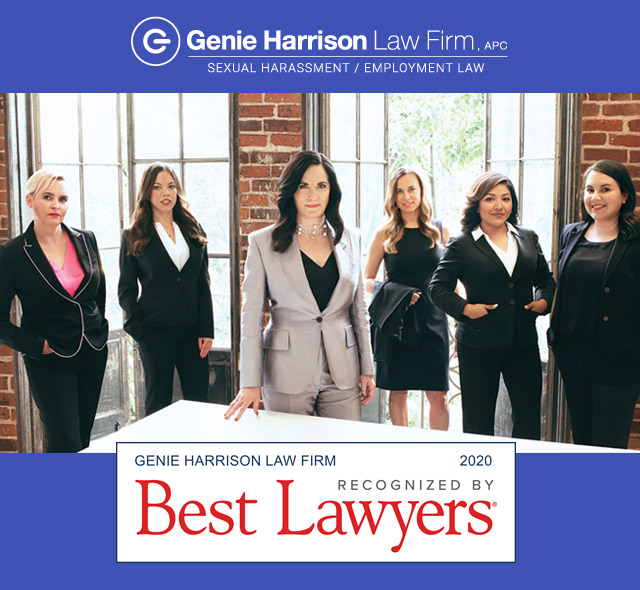 Ms. Harrison has consistently been recognized for her accomplishments by prestigious, peer reviewed legal organizations. She has been named to Super Lawyers every year since 2009. For five years straight (2016-2020) she was named to Super Lawyers "Best of the Best" list of Top 10 Super Lawyers in Southern California. Recently she was named to the Top 100 Lawyers in California – across all categories of law – by the Daily Journal.
Our Focus is on YOU and your case.
Employment law is a complex field of practice that is constantly evolving. We only take a limited number of cases so we can fight for you at the highest level to resolve your case through negotiation or trial. We have improved the working conditions for countless employees, and the lives of those who have been victims of sexual crimes. We make a difference.
Practice Areas of the Genie Harrison Law Firm